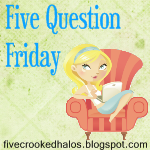 1.
H
ave you ever had roommates?
Nope.
2. How many names do you/your children have? (i.e. Prince Charming William Phillip Arthur Louis John Jacob
Jingleheimer
-Schmidt)
I have one first name, one middle name, and my last name is hyphenated, so thats two.
3. Did you watch the Royal Wedding?
Yes. I woke up the same time my hubby got up to go to work. The Prince and Princess makes a beautiful couple.
4. W
hat is the messiest room in your house?
At the moment? ....Living room, but I'll get on to cleaning it before the hubby gets home.
5. W
hat is your ideal mothers day?
I'm not a mom yet, but when I do become a mom, it would be to spend time all day with my children since they are all I want and dream of. (we're TTC)